FACES BEHIND HOUE DESIGNS
DESIGNER // HENRIK PEDERSEN
Does design really matter? Perhaps not – but for me it's essential. It gives me a thrill to design forms and functions that are capable of moving people passionately and opening up new possibilities.
Passion for design is in my mind, soul and heart, wherever I go.
And my main inspiration is neo-scandinavian design, influenced by the vibes of London and the humor of Amsterdam, often with elements of fusion, resulting in materials and functions being combined in new and original ways, while always striving for a pure and simple look.
Designs for HOUE: CLICK outdoor chairs, ReCLIPS outdoor chairs, LEVEL Lounge, CIRCLE dining tables, LEAF dining table, FOUR dining and bar tables, SKETCH dining table, EYELET tray tables and AVON Lounge collection.
DESIGNER // ROEE MAGDASSI
Based in Tel-Aviv. I believe that design should be practical, striving for simplicity and be straightforward. I design products that are desirable , bringing fun. Products that make you smile.
In my designs I try to use as an inspiration a recognized shape, feature or a small gesture which most people are familiar with, simplify it to its core, process it and implement it in a new context.
The functional details enhance the concept in an interesting and expressive manner, and adds a unique character to the object, one that the consumer can recognize and relate to.
Designs for HOUE: EDGE tray tables.
DESIGNER // THOMAS PEDERSEN
Thomas Pedersen graduated from Aarhus School of Architecture in Denmark in 2002 and set up SPARK design studio later the same year.
Pedersen's designs embody Danish Modern characteristics, with a clear emphasis on simplicity. He combines classic organic lines with innovative ideas and details.
Much of his fascination for furniture design derives from the fact that it is possible to build full-scale models of the concepts he has in his head. He is firmly convinced that it is only by doing this that it is possible to test the qualities of his products with his own body, to assess their durability and thus make certain that the results live up to expectations.
Among Pedersen's role models in this context are Charles and Ray Eames, whose furniture design work was always dedicated to ergonomically and comfortably accommodating the human body. Over the years Thomas Pedersen has won a number of awards for his designs. He is best known for his Stingray chair, which he designed as his graduation project in Aarhus.
Designs for HOUE: FALK Dining chairs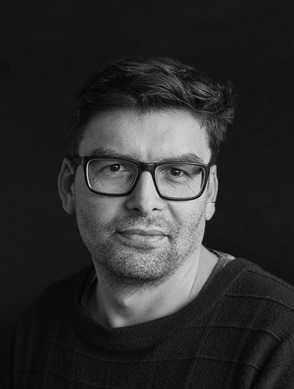 DESIGNER // HANS THYGE & CO.
Hans Thyge & Co consists of passionate designers with bold ideas and a love for beautiful design. Together we work with a combination of a strong tradition and a drive to explore the unknown and innovative parts of design.
The design studio specializes in designing furniture, objects, and interiors. We juggle with everything from technical projects and lifestyle concepts to branding and communication and always with a strategic, sustainable, and commercial approach in mind. We have a long history of know-how and experience working with a variety of materials and production methods for clients worldwide.
Working with many nationalities and different design approaches worldwide, demands an attitude of openness and collaborative skills. The mixture of different cultures and design-traditions is the hot-spot where great design comes to life.
We believe in combining brain and heart, function, and aesthetics, and that every design should tell a story; a product is so much more than the product itself, it is about creativity, vision, culture, company values, the past, the present and the future.
Designs for HOUE: NAMI collection